Fossavatnsgangan is held on the last Saturday of winter except when it falls on Easter weekend, in which case the walk is the Saturday before Palm Sunday. This rule takes effect in 2023.
2024: April 20
2025: April 12
2026: April 18th
Short story
For a long time, the Fossavatnsgangan was held in April or May. Since 1980, the rule was that the walk was held on the Saturday or Sunday following May 1.
The Fossavatnsgangan has for a long time been the last walk in the cross-country skiing program in Iceland, but with the introduction of the Fjallagangan, that is no longer the case. The Waterfall Walk has also been the last walk in the traditional winter season in the Northern Hemisphere, and sometimes so late that a long time passes between the last walk on the European continent and the Fossavatnsgangan.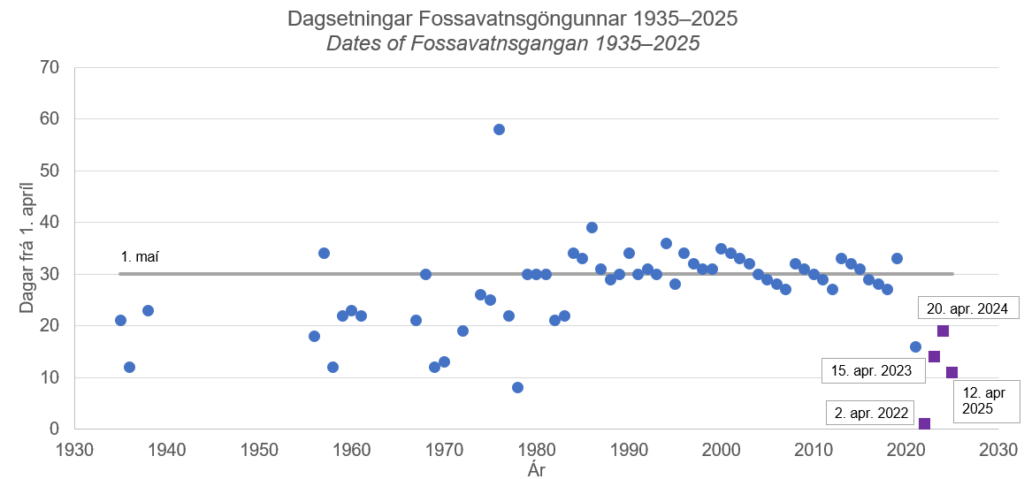 Keeping the strict rule that the walk is at the end of the month of April-May often results in several weeks when people in Europe and other parts of the country cannot ski. At the same time, snow has often started to melt in the mountains, which increases the risk of having to deviate from the traditional track parking. Therefore, there was a desire to move the tournament a little further. However, you must not go too far, because the weather is bad on the moors and the chance of bad weather increases the earlier in the year you walk.
There are many other things to consider when deciding on a date. The Donald Duck games in Akureyri have their permanent place (which start on the first day of summer), as well as what Easter can bring up on these days.
Of the days of the week, Saturday is the best, as it gives visitors Sunday for travel.
The Waterfall Ice Skating and a shorter competition over shorter distances is held on the Thursday before the main parade.
When choosing the dates for the marches from 2023 onwards, the following rule has been used: