The race dates have been set for the next few years.
The date for the 2022 race was set a few years back and will be 2nd April 2022. The free style race will be 31st March 2022.
Race dates 2023 and later
Historically, Fossavatnsgangan has been held in April or early May. Starting in 1980, the Saturday or Sunday closest to 1st May was used, with a few exemptions.
There are many things to consider when setting the date; snow conditions, the big Donald Duck ski festival in Akureyri (held on the first day of summer according to the traditional Icelandic calendar), date of Easter and other factors.
Fossavatnsgangan has traditionally been the last race in the Icelandic skiing calendar, but now with Fjallagangan having started, that is no longer the case.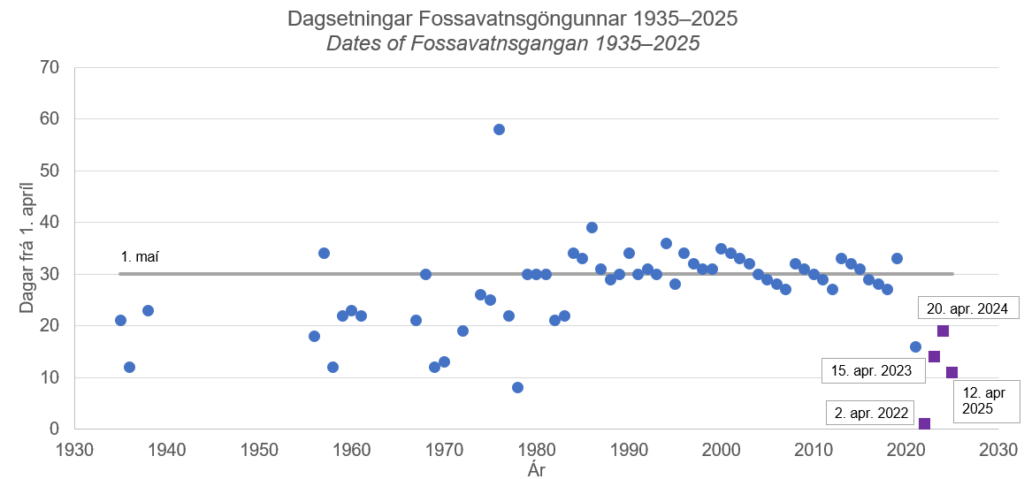 Maintaining our rule of late April–early May often creates a few weeks where people around the country cannot ski, and where snow conditions deteriorate in our mountains. Thus, we wanted to move it a bit earlier into the year.
Saturday is the best day for the race, as it gives people the Sunday for travel back home.
In choosing the dates from 2023 and beyond, we have created the following rule for the main race:
Thus, the dates for our next races are as follows:
2nd April 2022 (already decided)
15th April 2023 (following new rule)
20th April 2024 (following new rule)
12th April 2025 (following new rule)